30 ha site area
370.000 sqm to be built
2.000 apartments
148.000 sqm office & retail
37.000 sqm socio-cultural
9 ha park
3.500 car parks
THE GARE MARITIME AS A COVERED TOWN
The basic concept for the Gare Maritime is to create a covered town in the form of a mixed-use urban development with facilities for shopping, work, leisure activities, eating and drinking, and public events.
A covered neighbourhood where life is good with green planted areas beneath a monumental wide span station roof with a pleasant temperate climate that changes with the seasons.
The Gare Maritime will therefore be more than a building. Rather a lively city neighbourhood where it is a pleasure to stroll, with its streets and boulevards, parks and squares. Twelve separate building blocks will be erected in this new city structure to house the new developments (circa 45,000 m2).
This morphological structure fits logically within the urban development structure of the Tour & Taxis site and within the wider urban environment.
The architectonic approach of the new content respects the spatial logic, structure and dimensions of the historic hall, with its rhythm of rafters and columns. To highlight the existing structure as much as possible the incorporated volumes have been placed in the side facades, thereby leaving the three central spans free. This monumental covered space consequently remains available for events, exhibitions and festivals, as was already the case in recent years.
The combination of the old station sheds with a contemporary content and innovative concepts for work, retail and leisure activities makes the Gare Maritime a unique project. It is not only a pleasant environment for the daily visitors to spend their time but also aims to develop into a tourist attraction in the Brussels Region.
The development of the Gare Maritime will make a major contribution to the development of the whole Canal Zone, in synergy with other future developments in the area, such as the Museum of Modern Art at the Citroen garage.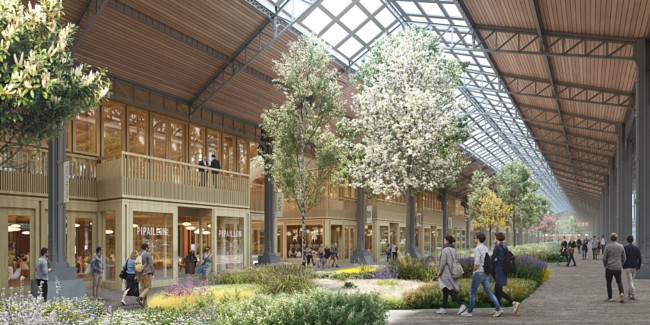 The climate of Barcelona ...
in Brussels !